pg 5 A peep into the past Vol 2, 1994 Gordon and Belle Hall
The Bow River Horse Ranch was a spinoff of the Cochrane Ranche. It took over the leases held by the British American Ranch Co. The British American Ranch was formed in 1884 by the original shareholders of the Cochrane Ranche. In 1888 a new company known as the Bow River Ranch Co. was formed and took over the British American Ranch leases. This new ranch occupied part of the old Cochrane Ranche territory and extended eight to 10 miles along the south side of the Bow River. John Morrison was the manager from 1888 – 1890 after which time Mr. Goddard was appointed to the post. Gilbert Edwin Goddard was born in 1861 in South Devon England. In 1881 he left England and after working in the U.S.A. for a time, came to Canada and in 1888 became a bookkeeper at the Bow River Horse Ranch. 
In 1893 Goddard formed a partnership with two brothers, E.H. and W.P. Warner and acquired control of the Bow River Horse Ranch. The Warners were from Quorn Hall Loughborough, England, the same part of England the promoters of the Quorn Ranch came from. Gilbert Goddard married Luella Grasse, the only daughter of Peter Grasse at Innisfail in 1900. She was an accomplished horsewoman. Goddard built up the ranch with barns, fences and corrals. French Coach and Clyde horses were imported and bred for sale to the mounted police and on the English market. Purebred Angus cattle were imported, and crops of oats and barley were raised. Goddard was remembered by a large lake named after him. Goddard Lake lay north and a bit west of the Springbank Airport. The old Banff Coach Road ran around the north side of the lake. However, the lake has now dried up and the lake bottom has been farmed. In 1918 the ranch was sold to a prince from Naples, Italy and the Goddard family moved to Victoria B.C. The prince, however, couldn't pay for it and the ranch was repossessed. 
In 1925 it was finally sold to Barons Joseph and Endre Csavasay, Hungarian noblemen. Many ranchers of the early days had at some time worked on the Bow River Horse Ranch. Teddy Harrison of Jumping Pound, Alex Mackay of Cochrane and Clem Gardner at age 17. These are just a few who have worked at the Bow River Horse Ranch.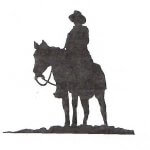 Images courtesy former Glenbow Archive