pg 573 More Big Hill Country 2009
Angus MacKenzie was born and raised on the farm, NW Sec 32 Twp 25 Range 3 W5M near Cochrane on December 2, 1931. He married Jean Primrose Craig on October 22, 1960, at St. Andrew's United Church in Cochrane. 
Jean is the only daughter, born July 27, 1930, to Ernest John H. Craig (1899-1975) and Grace (Hedgelong) Craig (1898-1975) who was born in Ashford Kent, England. Ernest and Grace met during WWI in England. Ernest was serving overseas in the Canadian Army. They married in Calgary on February 17, 1920. Jean had 2 older brothers.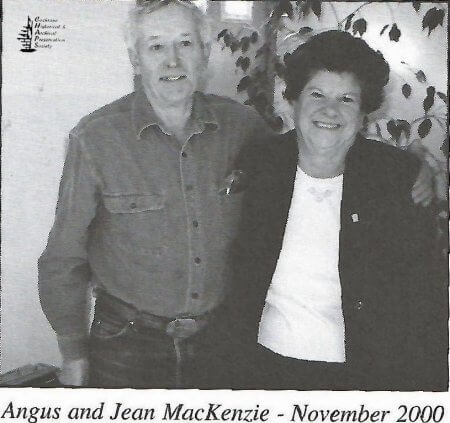 Angus and Jean MacKenzie took over the Norman MacKenzie dairy herd in 1971. It was a 365 day a year job, but it brought in a good steady income. With the use of AI (artificial insemination) and the Dairy Herd Improvement programs, a good Holstein dairy herd was obtained. In August 1985, the dairy herd and quota was sold to a new owner north east of Camrose. Angus and Jean started a Hereford, red Angus beef herd. 
Angus and Jean have a family of four children and ten grandchildren. They live on the original family farm. 
Craig Angus, born in 1961, married Fay Der, August 18, 1990. They have a son Duncan Craig, born in 1994 and a daughter Emily Jade, born in 1998. The family lives in Scenic Acres in northwest Calgary. 
Susan Jean, born 1962, married Harvey Fedor in 1987. They have three daughters; Teghan Rae born in 1993, Kye Nicole, born in 1995 and Matraya Natasha born in 1997. 
Catherine Grace, born 1963, married David Griffiths in 1988. They have three children; Alexa Simone born in 1998 in Short Hills, New Jersey, USA, Mitchell born in 2000, in Houston, Texas and Chatham, born in 2004, in Calgary, Alberta. 
John Norman, born 1965 married Michelle Kuhn in 1996. They have two children; Thomas Angus, born in 1999 and Julianna Grace born in 2002. The family lives on the Horse Creek Road N.W. of Cochrane. 
Angus and Jean's children attended Cochrane schools grades 1 to 12. The children also received post-secondary education. Craig, 1980-1984, Alberta College of Art; Susan, Accounting and Business Management; Catherine, University of Calgary Master's Degree in Environmental Design and John graduated from the Olds School of Agriculture. 
Jean and Angus are active volunteers in their community. Jean is a long-time member of the Glendale W.I. and Cochrane Legion Ladies Auxiliary. Angus is a Bearspaw Lions Club 30 year member. Angus and Jean are members of (C.H.A.P.S.) Cochrane Historical Archival Preservation Society and Members of the Old Time Cochrane District Fair.
In 1963, Retired Rev. L.L. "Dick" Gaetz approached George Dutchik, who was the custodian of the historic McDougall Stoney Mission Church, regarding the commemoration of the 100th Anniversary of this landmark church settlement. They decided on two murals to be located on each side of the church pulpit. George approached Angus and the desired size was 2 panels each 4 feet by 8 feet. It was left up to Angus to decide what the murals would be. Quite a challenge. A lot of research was required, reading and a visit to Glenbow Museum. 1863 was before Fort Calgary, which was built in 1875, the Canadian Pacific Railway didn't reach Calgary until 1883. It took Angus more than a year to complete the mural. The project started from scratch; stretching the canvas on home-built frames, doing the artwork then completing the finished works with rustic picture frames to match the historic church decor. Jean draped in a Hudson Bay Blanket posed as a Stoney Nakoda woman during drawing and painting of the work.