CHAPS 2022 Membership Drive has drawn to a close. Thanks to everyone that chose to get involved by becoming a member or renewing their membership.
I was part of the nighttime crew for one shift at the recent Casino. I was impressed that eight of our supporters donated their time for just that shift in our major fundraiser for CHAPS and the Cochrane Historical Museum. Thanks to Donna Morris who organized and all the volunteers who got involved over the two days and nights.
I also want to share a story of why I continue to be a member. I have been using Google Earth Pro to better visualize historic Cochrane. We often get asked where certain buildings are located by interested people and the media. Since businesses have been in multiple locations in the last 120 years there is often confusion.
I'm thinking that by using Google Earth Pro, our photo archives and the map overlays in the back of Big Hill Country we can do a better job of answering these questions. For me, a question I've always had was quickly answered.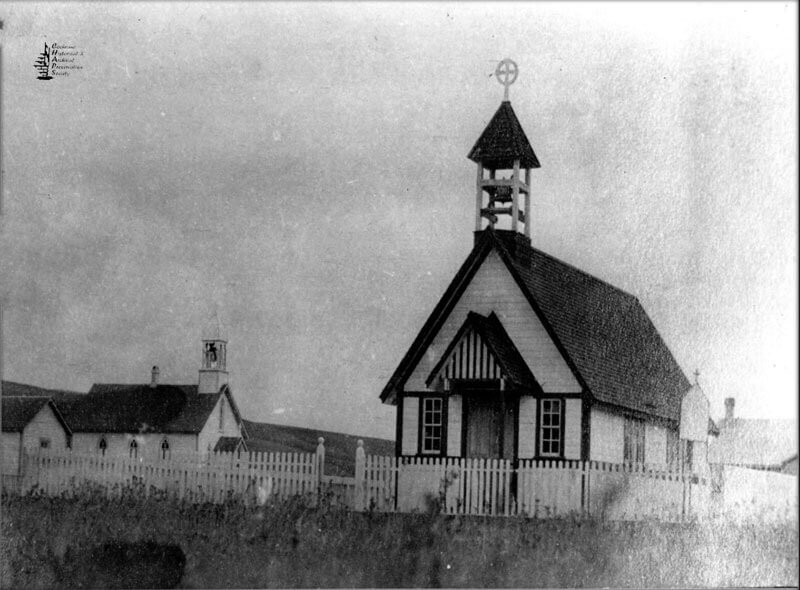 This photo and the location of the two churches always puzzled me. While building a pre-1900 view of Cochrane this question was quickly resolved.
The photos below show All Saints was on the corner of 2nd Ave and 2nd street, while St Marys was north across 2nd street.