CHAPS recently received a donation of "A Peep into the Past", A Collection of Historic Poems and Short Stories by Gordon and Belle Hall Vol. II.
CHAPS is happy to continue the Hall's role of collecting and educating people about Cochrane and Area's rich history.
Our first story of the Halls is their recollection of the early Mayors of Cochrane.
EARLY MAYOR HAD EPIDEMIC TO HANDLE 
Cochrane has had a lot of overseers, chairmen and mayors since 1903. In 1903 an application was made to the Commissioner of Public Works at Regina, N.W.T. for the hamlet of Cochrane to become a village. At this time there were approximately 13 or 14 houses taxable with the CPR station house and the CPR section house and one hotel. 
On Aug. 31, 1903, Dan White was appointed overseer. For the next four years, the following men were overseers: 1904, Alex McEwen; 1905, Donald J. Bruce; 1906, Donald J. Bruce; 1907, James Quigley. In 1907 the village act came into being and in 1908 Andrew Chapman became overseer, and this was a year that a smallpox epidemic hit the district. 
Tents were ordered from Calgary and an isolation area was set up near the Bow River. The village was supposed to have been guarded by men with rifles, and food and medical supplies were dropped off halfway to the camp to be picked up by people from the camp. In 1909 A. Chapman was overseer again with J.A. Campbell and Gerald Mortimer on the council. This is the year the volunteer fire brigade was formed, so the department is 80 years old this year, 1989. Council chambers and fire hall were built at the cost of $429 with $ 150 for the lot to put it on. R. Hewitt was the first fire chief. 
In 1909 also, the village sent a petition to the Minister of Public Works of the province of Alberta asking that their present system of taxation be changed to that known as single tax or assessment based on the actual value thereon. In 1914 the population was 500 people. The first post office was opened in July of 1887 and the first postmaster was James Johnstone and we unveiled a plaque in the current post office, honouring the first 100 years on July 1, 1987. 
Several things happened in 1925 when F.L. Gainer was mayor. The elevator was built in Cochrane, a steel bridge was put over the Bow River, the Presbyterian Church amalgamated with the United Church, and the Union Bank was taken over by the Royal Bank. Andrew Chapman was associated with the town council from 1909 up until 1945. Graeme Broatch was mayor 13 times, Hank Engert six times and Caroline Godfrey, the first woman mayor, eight times. Graeme Broatch was mayor when the present Queen and Prince Phillip made a stop in Cochrane in November 1951 – the then Princess and Prince were presented with a Gissing painting. 
In 1954-57 Barney Klassen was mayor and was instrumental in getting natural gas in the village, also sewer and water and seven fire hydrants. He also was one of the top officials in getting the first mechanized fire brigade organized. There are many incidents down through the years, too many to mention in our small column, but they all have their place in history.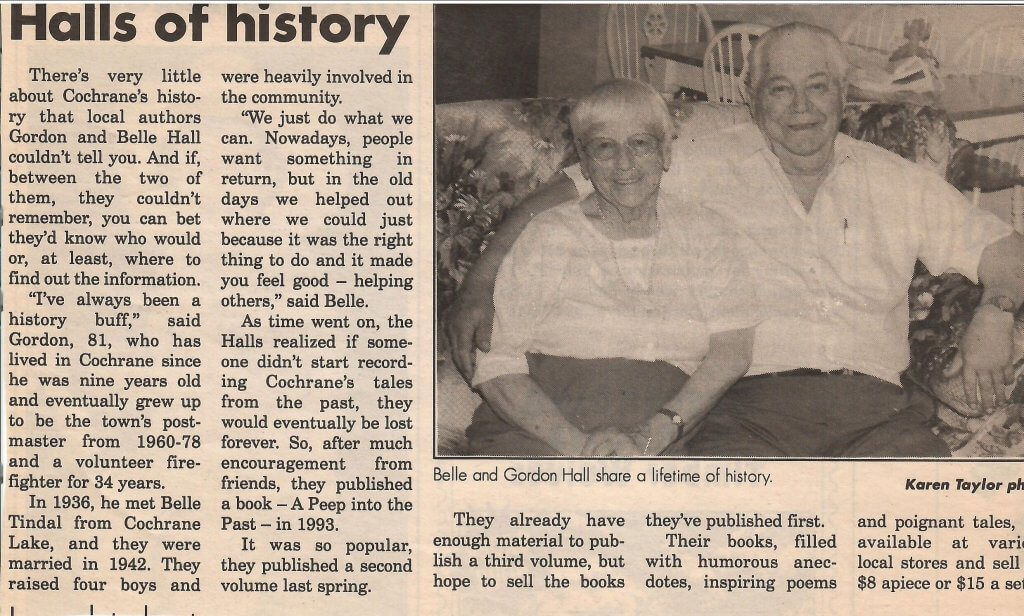 Foreword - A Peep into the Past Volume II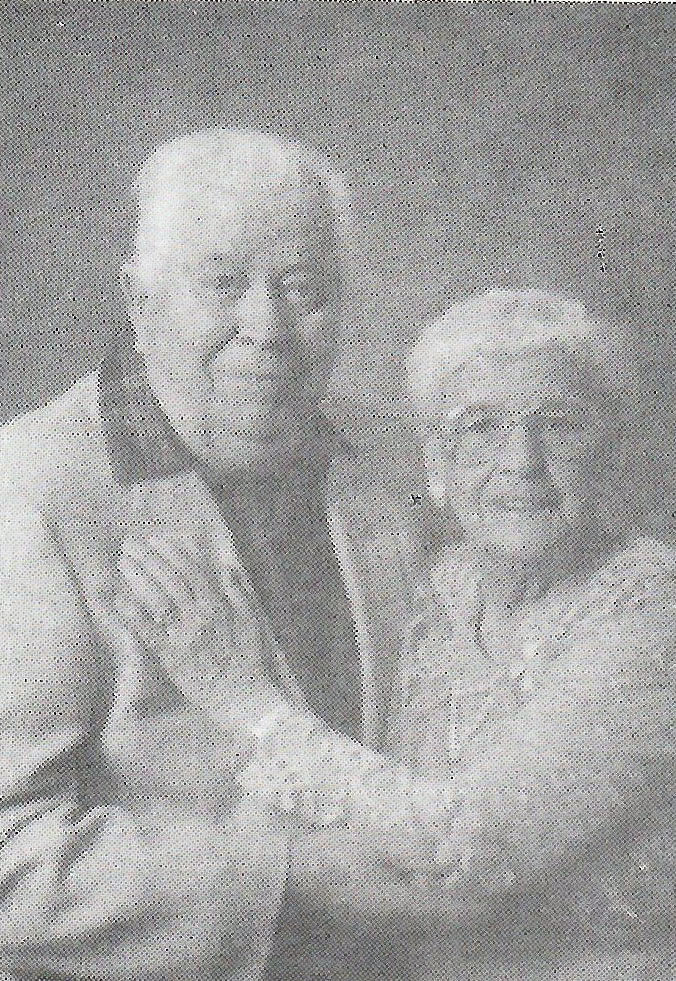 Gordon came to Cochrane with his parents, Syd and Mary Hall in April 1923. He took most of his schooling in Cochrane. During the hungry thirties, he worked at farming, logging and other jobs. 
Gordon went to work at Cochrane Auto Service in the early 40s and in 1942 he married Belle Tindal from Cochrane Lakes. Gordon and Belle made the home in Cochrane after working for Harry McConachie of the Justhome Ranch for three years. They purchased a lot in the east end of Cochrane in 1946 and built their own home. Gordon worked for Graeme Broatch at the auto service for 16 years and in 1960 he was made Postmaster. Gordon kept this job for 18 years, retiring in 1978. He was a volunteer fireman for 34 years and formed the first mechanized brigade in 1954.
Gordon and Belle raised four boys, two of whom are still living. They were active in the Boy Scout movement for 30 years. 
Belle's parents, Frank and Marion Tindal farmed most of their lives and raised a large family. Belle took her schooling at Cochrane Lakes and loves dancing, sports and travelling, Belle was the first Noble Grand of Bow View Rebekah Lodge #125. 
Gordon and Belle were awarded the Cochrane and District Chamber of Commerce Community Builders award in 1986. "A sincere thanks to each and everyone that encouraged us to put this book together."
Originally printed March 1994. Reprinted here by Permission of the Hall Family.