pg 390 More Bill Hill Country 2009
The Gordon Ivan Davies family moved to Cochrane in 1962 from Mercury Camp, just two kilometers north of Longview, Alberta. At the time, Gordon and his wife, Mildred (nee Garbutt), had five children, with baby Teresa being just seven months old. 
Gordon was raised on a small ranch in the Porcupine Hills west of Claresholm, Alberta. His parents were Ivan Jennings Davies and Rachel Lillian Lepard. Ivan's family moved to southern Alberta from Idaho Falls, Idaho in 1908, and Rachel's from Frazee, Minnesota in 1910. 
Ivan and Rachel met in Claresholm and married in 1926. They had two boys, Gordon Ivan and Stewart William.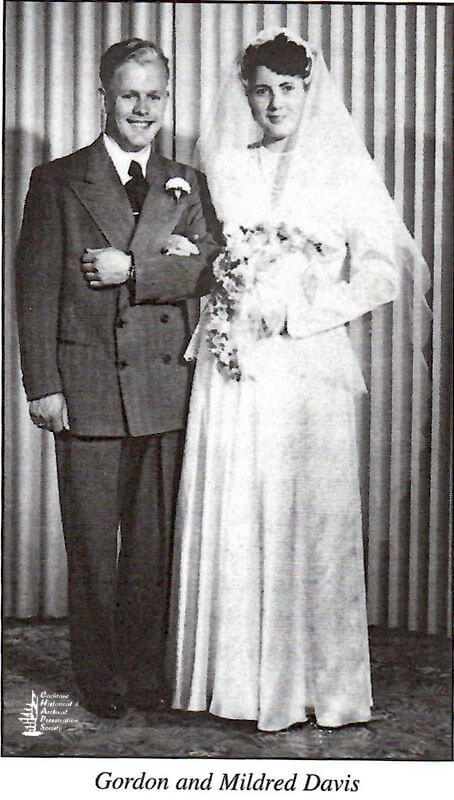 Mildred was raised on a farm a few miles east of Nanton, Alberta. Her parents, Harold Frederick Garbutt and Sarah Rebecca Lewis were both from Ontario. They married in 1924 and ventured out to the Wild West after their first son, Lewis, was born. They had four other children: Arletta, Donald, Phyllis, and Mildred Mae. Another son, Bruce, died in infancy. 
In 1946, the Davies family moved to a farm just south of Nanton and shortly thereafter, Gordon and Mildred met at a fateful community dance in Parkland. They were married in 1950. The next year, Gordon took a job at the Purity 99 refinery just north of Longview.
The bustling company community of Mercury Camp consisted of the employees of Purity 99 and their families 
During their years in Mercury Camp, Gordon and Mildred had five children: Theodore Gordon (1952), Leslie Dawn (1955), Ivan Blaine (1956), Arletta Lorraine (1959), and Teresa Darlene (1961). The refinery suffered a huge explosion and fire in 1953 and then closed down in 1961. As a result of the closure, Gordon took a job as an operator at the brand-new Wildcat Hills Petro-Fina gas and sulphur plant (now Petro Canada) ten miles west of Cochrane and moved his family to their new home in the summer of 1962 
The move, however, took place in stages. Gordon went up to Cochrane in December of 1961 to start his new job, and wee Ivan, at the tender age of five, made the trek north at the beginning of June to get a head start on his education, attending a couple of weeks of kindergarten Teddy and Leslie were attending school in Longview, SD Mildred waited out the school year and brought the rest of the clan up at the beginning of July. 
At the time, Cochrane had a population of about 800 people. The Davies moved into a small bungalow, just off Main Street, two houses north of what was then Graham's Pharmacy. There were only two bedrooms for the family of seven – but they made do just fine with the three girls tucked into the second bedroom and the boys bunking out in the open basement. This small home later had several incarnations as different restaurants including a rib house, and Chinese and Mexican restaurants. It was an odd feeling for us to go sit at a table in our parents' bedroom and order a meal! 
The days in Cochrane were punctuated by the town siren sounding daily at noon. On occasion, the emergency siren would also start wailing to announce a fine Dad, who was a volunteer firefighter for several years would drop everything and make a mad dash to the fine hall. Other regular sounds were the church bells pealing on Sundays, and frequent train whistles all day every day The Canadian Pacific Railway (CPR) Station stood by itself on the long strip of land between Main Street (now 1st Street) and the railroad tracks. Theo and Ivan remember anxiously hanging around the station platform waiting for the trains to come through and unload their mystery cargoes. In the first few years, we received our Sears parcels by train and the boys have fond memories of one truly exciting package – the green Woods tent that became the focal point of our annual family vacation in Mara Lake, British Columbia The anticipation of going camping in it was almost overwhelming! 
The sleepy little village with its graveled streets and open fields was an idyllic playground to grow up in Everyone knew everyone else, doors were never locked, neighbours dropped in unannounced for coffee, and we children roamed free – as long as the dishes and our other chores were done! 
We had great fun playing scrub baseball next to the railroad tracks for hours on end. Summer nights and weekends, one of the neighbourhood kids would run up the street calling out, "Scrub, scrub!" and the rest of us would grab our mitts, if we were lucky enough to have one, and pour out of our houses to race over to the field, jump the page wire fence, tag home base and call out "Batter 1! Batter 2! Catcher! Pitcher!" according to Our preference and order of arrival. These scrub baseball games may have been instrumental in Ivan's not-so-illustrious performance in Minor Baseball League games played on the Banff-Canmore-Exshaw circuit! 
On our street, other summer sports included pick-up tackle football in the Milligan yard (site of the present Ducks on the Roof business complex), and long evenings of Hide and Seek, Ante Over, and Kick the Can. On sunny summer days, we would set off to go fishing in Big Hill Creek. To us, the creek seemed like a l-o-o-n-g way out of town, and there were times when Ivan and his buddies were known to hop the train and take it down as far as they could, so they could save a few footsteps. The stretch of the creek between Cochrane Ranche and where it joins the Bow River yielded many a tasty trout! 
The other place we could always be found was the aid outdoor swimming pool, which is now long gone and buried under the playground next to the outdoor skating rink at the bottom of Big Hill. We would sometimes spend entire days splashing and roughhousing in the undersized pool. In the early 1960s, the Cochrane Piranha Swim Club was born, with Keith Raby as the coach. We Davies children all took to the water like fish and spent several years swimming with the Piranhas and competing in summer swim meets around Alberta. Leslie, Arletta, and Teresa all went on to become lifeguards and swimming instructors, and Leslie coached the Cochrane Piranhas for a couple of summers. 
In the winter, we simply switched venues from the swimming pool to the skating rink next door to it! The winters were very cold and the snow banks were often piled higher than the boards around the rink. We all learned to skate by playing games like Crack the Whip, Pom Pom Pull Away, and British Bull Dog. An old one-room schoolhouse that had been moved to the west end of the rink was used as a change house. It had an old pot-bellied wood stove in it, and it was always a real treat when the stove was fired up! Later we started using the swimming pool building as a changing room. 
Then, as now, hockey was the be-all and end-all. In the early years, the boys used gunny sacks to carry up to the rink their prized hockey equipment, metal rod shin pads, newspaper for extra padding, and quart jar sealer rings to hold it all together! Ted and Ivan both played hockey from Tiny Mite to Midget, and the girls froze their behinds faithfully cheering them on all winter long. 
In addition to recreational skating and hockey, the boys also spent countless hours practicing for the Cub and Scout Ice Chuckwagon races. The Cochrane teams often brought home the coveted championship trophies from the Banff-Canmore-Exshaw circuit, and Ivan still remembers the excitement of getting to compete in the Calgary Stampede Corral. 
Big Hill Creek provided many a winter adventure, too! With our skates slung over our shoulders, we made the long trek down to the old Creamery on the site of what is now Cochrane Ranche. There, we would lace up and spend long hours ripping and roaring up and down the creek! 
Gordon's lifelong love of horses was a core part of our family life. Given that we lived in town, we boarded the horses in a field in the east end of town, where the present-day Hill Lodge is situated, as well as uphill on the Copithorne farm, where the GlenEagles development is today. Many glorious days were spent riding the hillsides. It was particularly interesting to notice how the underground springs in the area would shift, popping up in different locations from one week to the next! 
Gordon's dream was always to own his own land and run cattle and horses. With five children to support, however, this was difficult to do. But he always owned cattle, buying some of the first purebred Charolais cattle brought in from France. In the beginning, he pastured them out at the Dalton Gibson ranch at the end of Jamieson Road west of Cochrane; later on, he moved them to the twenty acres he purchased just west of Cochrane Lake. Although the family never lived on that piece of land, it still brings up bitter-sweet memories of endless days picking rocks and planting and digging potatoes, all the while struggling to stay upright in the relentless westerly winds! 
The family participated in many local riding events, especially the annual Beaupre gymkhana. Ivan remembers riding his first steer at the age of 14 at the Lions Club rodeo grounds. At that time, the grounds were located out at the "edge of town", but now they are pretty much smack in the middle of town! Ivan continued his rodeo career with wild cow milking, wild horse racing, and many a team roping event with his father, Gordon. 
A great memory of early Cochrane is the phone system. No such thing as dial phones then – just the old wooden box phone with a crank handle! We had to ring the operator and ask for the number we wanted. Our number was 23 – Leslie still has her old figure skates with her name and phone number written inside. It's funny to think of how, in the mid 1960s, the entire town was called to a meeting in the community hall to learn how to use the new dial phones that were to be connected on New Year's Eve! 
Other fond memories of growing up in Cochrane: Fresh bread at the bakery (where the Telus building is now located) – five loaves for a dollar! 
Garden raiding on warm summer evenings and delicious sour crab apples, especially from R. E. Moore's trees. 
Long hours lost browsing through the bookshelves of the community library in the basement of the town hall – hooray for Nancy Drew! 
Wash day Monday, with Mom elbow deep in the wringer washer, the laundry flapping in the breeze in summer and frozen stiff in winter. 
The Calgary Herald paper route being passed down through all the siblings, from Teddy to Teresa, over the course of several years! 
The excitement of roaming the aisles of Kerfoot and Downs Hardware store with Dad, trying to find some little thing for Mom for Mother's Day. 
A family charge account at Graham's Drugstore and Moore's Foodmaster. 
The thrill of buying a new pair of jeans at Andison's Dry Goods store. 
Piranha swim club 24 hour swimathons. 
Teen club walkathons to the edge of Calgary and back. 
Saturday allowance of 10 cents each, which bought us a chocolate bar or a bag of chips. 
Fries and gravy for 30 cents at the Range Grill, a big splurge at 10 cents a week! 
Roaming the Cochrane hillsides for early spring crocuses The "swinging tree" with the rope hanging over the creek for us to dare each other on. 
The fascination of television when it first came out, and Sunday evenings with the whole family watching Bonanza together on the black and white screen. 
Leslie and Arletta scooping ice cream at MacKay's where the lineups were as long as or longer than now! 
Dad's short stint as the town dog catcher. 
Graduation from Cochrane High School for all five kids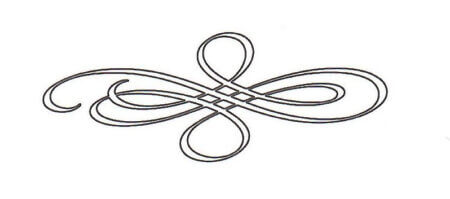 Where are we in 2008? 
Gordon worked as an operator and then as an instrument technician at the Petro-Fina gas plant. He made a dream reality when he and Mildred moved out of town to twenty acres situated just south of the ANG gas plant. In 1981, Petro-Fina was acquired by Petro- Canada, and Gordon took an early retirement a year later at age 55. Thereafter, he continued to enjoy working with his horses and helping out neighbours and friends with any and everything. Sadly, he passed away in 1988, a the young age of 61. He died doing what he loved, however, as he was outside working with his spring calves. 
Mildred continues to live on the acreage just outside of town that she and Gordon bought. After spending many years raising their five children, she took on developing some of her own hobbies and loves. She traveled far and wide, including to Africa and South America to visit Leslie while she was doing volunteer work on those continents. She also took up golf and oil painting, two creative endeavours that she enjoys immensely and does very well at. 
Theo got a diploma in Architectural Technology from the Southern Alberta Institute of Technology. After graduating, he set off to fulfill his dream of circumnavigating the world and spent two years backpacking his way from West to East. Shortly after his return he started up his own carpentry business that was in operation from 1978 to 1986. He married Eileen Prevost and they have two wonderful boys, Brenden Wyatt (1984), who has a certificate in Computer Aided Drafting from Bow Valley College, and Tyson Cory (1989), who plans a career in EMT/firefighting. When the boys were young, Theo took a job with Methanex in Kitimat British Columbia, where the family lived for 15 years. When Methanex closed down in 2007, they moved Cold Lake, AB, where Theo works with Encana.
Leslie graduated from the University of Calgary with a Bachelor of Education in English literature. She later went on to do two years of her Masters Degree in English. Leslie has taught high school for many years with the Calgary Catholic School District, which she enjoys immensely. Another love of hers, however, is volunteer service, and she has done over ten years of full-time volunteer work in Africa, India, and Latin America, as well as here at home in Canada. She is married to Robert John Paul Herrod and they live happily with their two cats in the quiet and neighbourly east end of Cochrane. 
After high school, Ivan spent some time testing gas wells and then traveling overseas. He also worked for numerous years in the guest ranch industry, as well as guiding hunting and fishing trips in the Northwest Territories and northern British Columbia. Later on, he settled into the ski business and owned his own ski shop in Calgary for fifteen years. Ivan has two lovely daughters, Mackenzie Dawn (1985) and Carla Mae (1988). Kenzi graduated from Olds College with a diploma in Land Management, and Carla is pursuing a career in nursing. Ivan continues to live in Cochrane and is presently serving as a Town Councillor. In addition to serving as chairperson of the Cochrane Labour Day Parade Committee for a number of years, he has been a volunteer with the Calgary Stampede Parade Committee for 20 years. 
Arletta married William (Bill) Cross of Nanton in 1981. Bill's family owned the historic A7 Ranch, and Arletta enthusiastically joined Bill in working of the ranch. In 1986, the family ranch was divided, and Bill and Arletta continued ranching under the name of Cross Cattle Company Ltd. Along with ranching, Arletta has her own consulting business. They have three great boys: Malcolm Alexander (1985), who is a helicopter pilot; Devin Jennings (1987), who has a year of studies at the University of Calgary under his belt; and Austin James (1993), who is in grade 8. An infant girl, Amber E. Cross, was born in February 1991 and, sadly, passed away in May of that same year. 
Teresa married William (Bill) Ostlund of Calgary in 1995. They have three lovely children: Michaela Kathleen (1996), Liam Gordon (1998), and Paul William (2000). Teresa has a diploma in Business Administration from Southern Alberta Institute of Technology, and worked in the oil and gas industry for many years as an executive administrator in the corporate and land departments. A lifelong fitness fanatic, Teresa accomplished her dream of doing an Ironman triathlon race when she completed Ironman Canada in 2006. Teresa is devoted to her growing family.