pg 44 A A Peep into the Past Vol.1 1990 Belle and Gordon Hall
The little white church among the tall evergreens is located on the corner of 2nd Ave. and 2nd St. N.W. Cochrane, opposite the town administration centre. It was originally built at Mitford by the Hon. Thomas and Lady Adela Cochrane in 1892 with wood from native trees. Stained glass windows, and financial help came from England, and the furnishings of the church from friends and relatives. The Hon. Thomas and Lady Adela Cochrane were an entirely different family of Cochrane's than those who started the Cochrane Ranche, hence the name Cochrane. 
The Ranche Cochranes were from Quebec, where Matthew Henry Cochrane was a senator and a renowned cattle breeder. These Cochranes were here about 1881, whereas the Mitford Cochranes arrived about 10 years later, so on All Saints Day, Nov. 1 1892, the church at Mitford was consecrated to the glory of God and all saints by Bishop Cyprain Pinkham of Calgary. 
After about two years at Mitford, the business declined, mainly because the CPR didn't like the spot, as it was hard to get their trains started because of the incline or steeper grade. Mitford became a ghost town, the Hon. Thomas and Lady Adela Cochrane returned to England and the little church was left alone. The vestry asked permission to move the church to Cochrane. Permission was given. The church was dragged across the flats, by 12 teams of horses with logs for rollers, until they came to the Big Hill Creek, which had to be crossed, and I understand it was quite a task getting it across.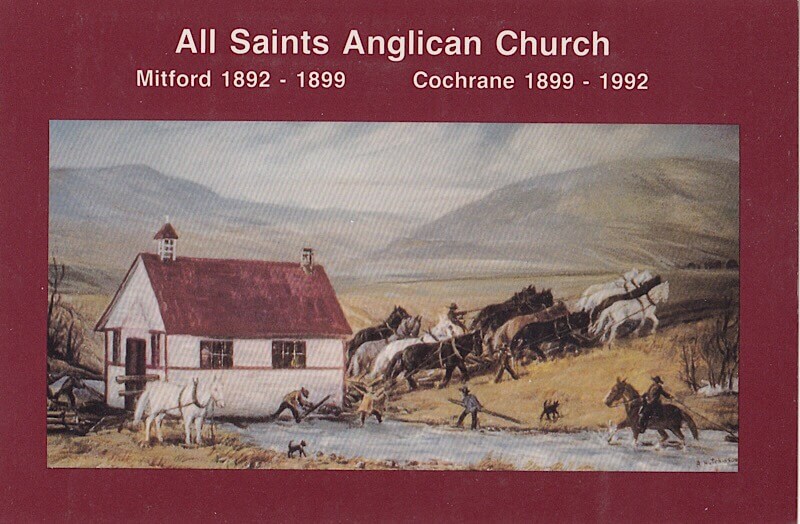 The Anglican church is depicted in an 1895 photograph along with the Catholic church which must have been built in the early 1890s also. In 1905 the church was put on a cement foundation and in 1914 electric lights were installed. I remember the old heater that was in the church. It was in the west end or front of the church. The chimney was in the east end or northeast corner, so it seemed the stovepipe, in sections of course, must have run about 40 feet. It was held up by baling wire in various spots. 
I was sentry of the vestry in the late 1940s and we raised enough money to reshingle the roof. This cost $600 and was done by Sydney Reed and Thomas Beattie. I remember Stanley Cope had shot two timber wolves and the bounty was $50 so he gave us the bounty money for shingles. In 1956 Cochrane became part of the parish of Exshaw and Canmore until the more recent time when we have a resident incumbent.
Religion in Cochrane Area by Gordon Davies