This year CHAPS received what we suspect is a luggage cart that was used at the Cochrane CPR Train Station. Wayne Hilland ran a garage that was just across the street from the train station and likely rescued the cart before the station was demolished.
CHAPS members Mike Taylor and Lonnie Basiuk took on the task of restoration.
We will be placing the cart outside of the museum sometime in May or June.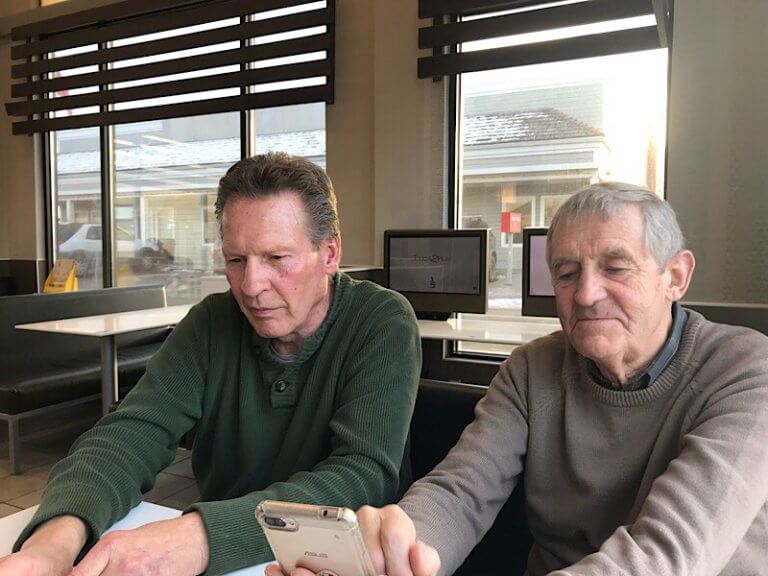 The 4 by 4's are hardwood and likely from Eastern Canada. We believe they are original.
Approximately 100 hours of restoration were required to take the cart apart, sand blast the original parts, replace and rebuild the cart. Many of the original parts were re-used. The wheels, lower undercarriage and trim are original. 
Reconstruction took place in the Want Quonset during November and December. Mike was hopeful Reno's would have taken a week but it required striping down and replacing parts. They were hopeful we could sand the trim but we had to sandblast at a place called Consolidated Compressor. We completed the sandblasting in 2.5 hours.
The metal was primed then  painted with "Tuscany Red". This colour closely matches the original. 
We think that baggage carts for CP and CN were constructed by the same manufacturer. We've tried to track down these numbers. When you think of it every station had one of these carts. We think the cart came from the late 1800's, early 1900's due to the square bolts used. We need to get into places like Heritage Park to do more research.
Mike figures with all the construction materials the cart weighs in a three quarters of a ton and yet when you pick it up it moves just beautifully. It's got big wide wheels so it doesn't fall into cracks. It's extremely well designed.
Cost of renovations was just under $1000.00
The Cart was offered to CHAPS by the family of Wayne Hilland. We are grateful for this addition to our exhibit. We are planning on placing the cart outside of the Cochrane Historical Museum, spring of 2020. We will let you know the date of the dedication.
Would you like to get involved in CHAPS?
We need help doing research, organizing events, memberships and social media.