I was looking through some of my Dad's stuff to see what we might loan to the Museum for the upcoming Equine Exhibit. I didn't have to look far.
Dad, Bill Boothby was an outrider for the Slim Fenton rig in the late 1940s. Dad obviously treasured those times as he created a bit of a Museum downstairs highlighting those times. 
I'm sure he told us about those times but I could not recall much. He spoke a lot of adding the "stove" at the start of the race but that's about all I remember. Since they are great action photos of the World Famous Chuckwagon Races and contain locals,  I think they are a great fit for the Museum. Lynn Ferguson with the Museum committee agreed so I started doing some research and looking for ways to loan the photos.
My brother (Dana) believes Dad might have ridden a horse named Dixie who was the parent of Old Blue, a horse I was familiar with from my childhood. Since Old Blue was Blue in colour and his parent would probably look similar.  That was a good clue. There are two "Blue" horses in the photos.
Gayle Dionne's grandfather is Slim Fenton. So I got in touch to find out if the family knew who else might have been on the team. Gayle responded that her mother (Frances) recalled that Bill Boothby, Mac Leask, Slim Leask, Roy Fenton,  and Alf Dionne were the others. 
Slim Fenton's canvas is visible in a couple of photos. It says Slim Fenton, Horse Creek with a longhorn image. I don't know how successful they were. I'm thinking of following up with the Stampede to see if they have records. 
That led me to contact Jackie-Lou Leask(Edge) an old high school chum to see if Mac and Slim were members of her husband's family. Sure enough, they are and Jackie remembers having photos of those times on a display when Mac was inducted into the Rodeo Hall of Fame.
When I removed the photos from the frames for scanning and a bit of touchup I saw they are from 1947 and 1948. Some of the photos were taken by Lorne Burkell, then of the Calgary Albertan.
As we dig up more details, I will add to the story.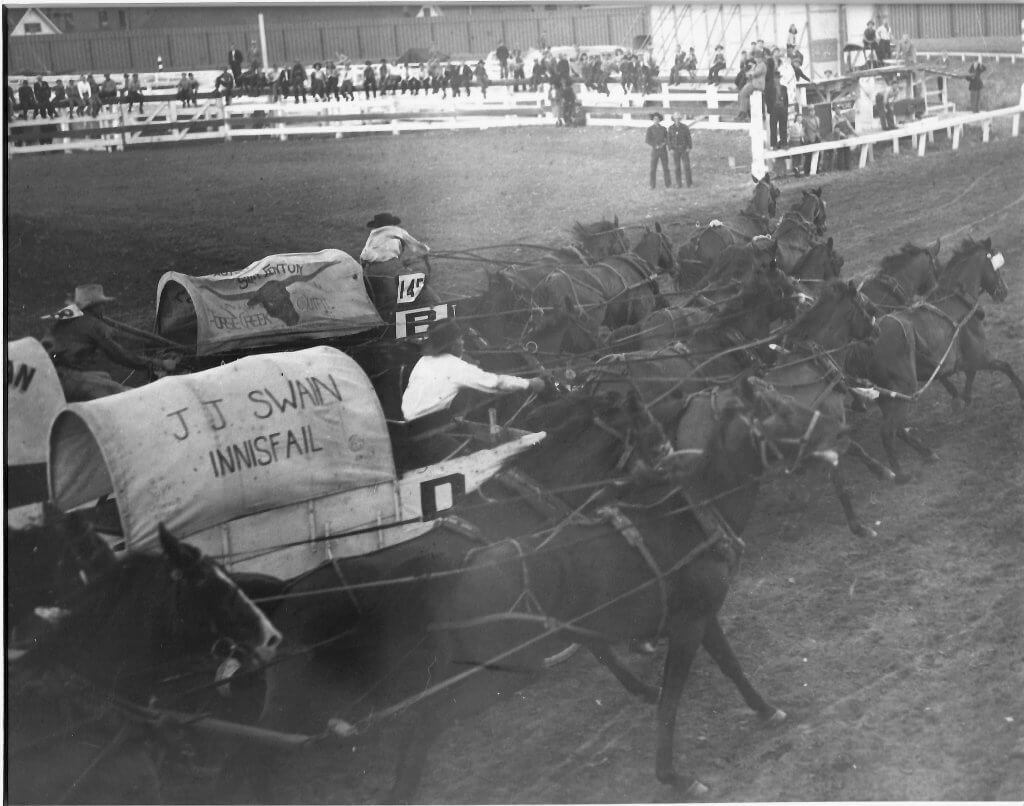 I've heard there were other people involved in the Stampede. If anyone would like to contribute stories of their family, I'd love to hear them. I'm just as certain the Museum would like to talk to you about borrowing any photos.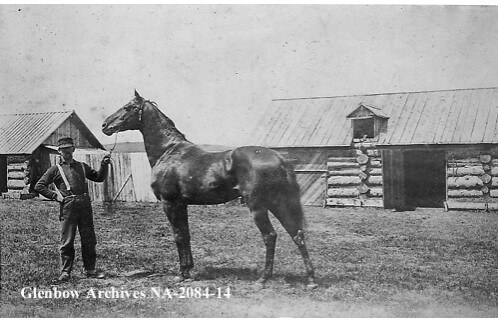 Get in touch
Share your story and photos of Cochrane's rich history.