pg 26 A Peep into the Past Vol 1 Belle and Gordon Hall
The first motor car in the Cochrane area was a small steam car owned by the Cochrane Ranch, It was brought into Alberta in 1903 by W.F. (Billy) Cochrane, who at the time resided at High River. Joe Boston was the first to have a car in Grand Valley. In 1907 he bought a 1907 Maxwell two-cylinder touring car. 
When Joe came to a hill he turned the Maxwell around and backed up. The car was sold to Ken Cohoe for $10 in 1945 and it is now in the Stan Reynold's Museum in Wetaskiwin. The Maxwell had a top speed of 10-15 miles per hour, but no power on the hills.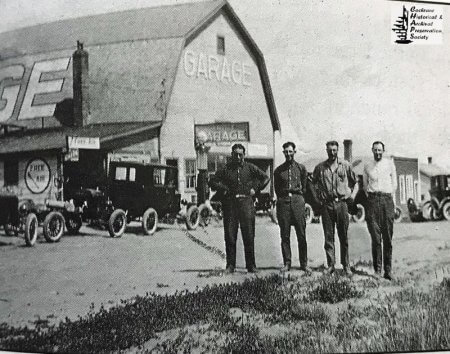 The Quigleys had the first garage in Cochrane and sold Ford cars. The garage was later made into a house, now being lived in by Mrs. Barbara Coutts. The Chapman Brothers built a garage here in 1918 and sold Chevrolet cars. Chas Grayson started the Imperial Oil Bulk station and delivered gas to the garages with a dray pulled by a big grey horse. Chas had a 100-gallon tank to haul the gas in. He could pull the tank off and on the dray as it was not very big. 
Gas was dispensed by early service stations by pail. The gas in the pail was poured into a funnel covered by a chamois cloth or hide to catch dirt and water. Gas tanks on the Model T Fords were under the front seat. After removing the seat, gas was measured by dipping a stick into the tank. It was graduated in inches and by the depth of the gas it told how much gas you had left. Then came the gravity pumps for gas a glass bowl at a height of about six feet, with a handle that the attendent pumped gas into the bowl of the pump. Then it was gravity-fed into the gas tanks. Oil was kept in glass bottles with a spout and were filled from oil barrels. The weight of oil required was marked on the bottle. Then of course, canned oil came along. Now oil is in plastic containers. 
Car tires were a big item. Everyone carried a kit to fix tubes. A hot patch was required at first and most people carried a device the tube was patched and clamped to. Fired by alcohol, these devices were quite dangerous. Then came the cold patch which was much better. It was common to see someone on the side of the road patching his tires.