One of our recent social media posts to celebrate Women's History Month was on the contribution of Elizabeth Barrett to Alberta's history. Several of our readers contributed very interesting comments on that post.
First, Hamish McNaughton Kerfoot contributed this photo of Barrett's gravesite. Her grave is described very well in our story: Elizabeth Barrett: First Woman Teacher in Alberta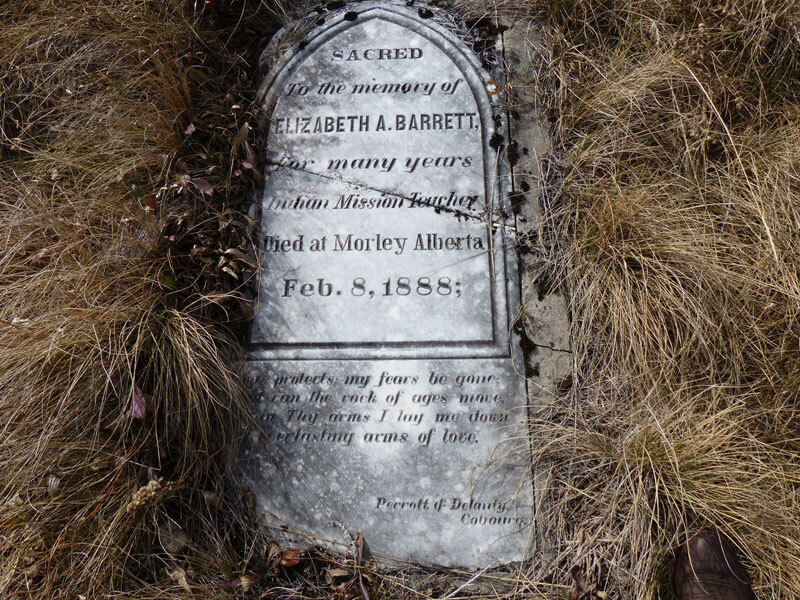 Then, a couple of our readers mentioned their time attending Elizabeth Barrett school here in Cochrane. They recalled a song they used to sing. Thanks to Christina Lewis and Sandy Mackenzie-Goodsell for the song tip.
Intrigued, I contacted Shelly Tuck at Elizabeth Barrett school. She kindly passed me along to Cathy Brown who supplied the words and tune. Hopefully, a performance version will come too.
Elizabeth Barrett School Song:
At Elizabeth Barrett School we think caring is cool
and peacemakers are here, everywhere.
We learn to talk it out, that's what school's all about
Trying to show we care….
And we do believe, 
we can achieve, 
our goals will all be met.
Working together in a safe and caring way is best
At Elizabeth Barrett, we're part of this whole family
Where everyone works together, to be the best that they can be.
Elizabeth Barrett School song melody
CHAPS is grateful that people are reading about our rich history and care to add their memories. Be sure to come to our AGM Sunday. Memberships and Tickets to the fund raiser will be available.
CHAPS AGM
March 12, 2023 2:00 PM FCSS Basement Boardroom
209 2nd Ave West