As told by Mrs. Warner - Big Hill Country
Photos courtesy Marsha Warner
Mr. and Mrs. Roy Warner and their six children moved from Conway, Missouri, to Cochrane in the spring of 1938. The family moved to the farm, east of Weedon School, which had been left to Roy by his uncle, Mark O'Neil. They travelled in a car and a truck, loaded with the family's possessions. The journey took ten days, however, for three days the Warners were forced to shelter in a vacant house near Lincoln, Nebraska, during a terrible blizzard. Fortunately, they had bedding and groceries with them and managed to heat the house with a brooder stove and some coal which they found there.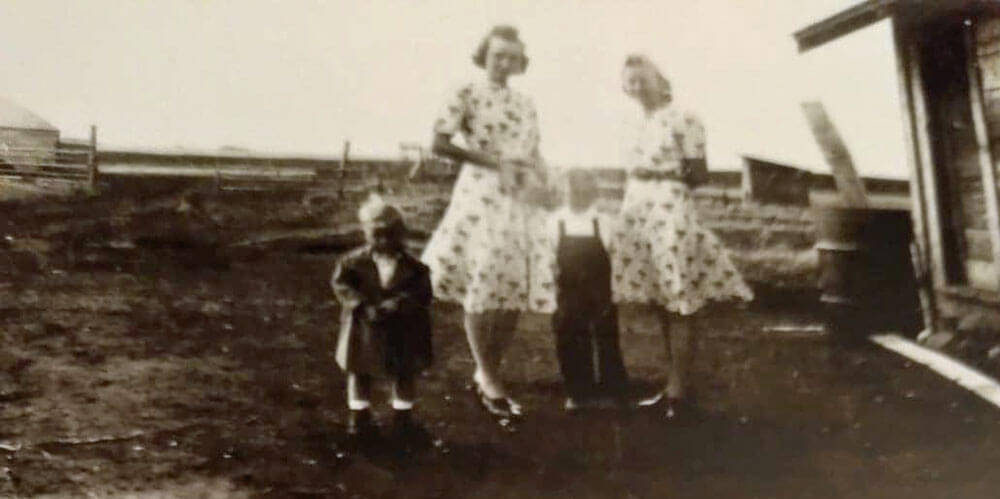 Mr. and Mrs. Warner were married in 1914 and lived on their farm near the Ozark Mountains until they moved to Cochrane. They raised chickens, kept a few cows, grew bedding plants for sale and sold vegetables to a nearby cannery. Once, Mrs. Warner recalls, her husband planted part of the garden area to turnips. They did so poorly that they were left in the ground come winter. The next year those turnips all went to seed. Roy had a good tight wagon box, so he and the children carefully cut off the ripe seed heads and flailed them in the wagon box. The seed was sold for about one hundred dollars; those turnips turned to gold! 
Times were very hard, but as Mrs. Warner says, "I was never used to a lot, so I knew how to make do." Her cousin once sent her a box of old clothes to makeover for the children. Included was an old suit, worn shiny but otherwise still good. Mrs. Warner turned the suit so that her son Burrell could have something to wear to a wedding. The result was a nice-looking suit, except that the buttons were on the wrong side! 
When the Warners moved to Cochrane their eldest son, George, was 22. Nova, Martha May, Burrell and William were also through school; Norma attended school at Weedon and Cochrane. Mark and Ronald were born after the family's move to Cochrane. After World War Two started, George returned to the United States and joined the U.S. Army. Burrell and William also returned to the land of their birth and both joined the Merchant Marines. All were in Active Service and returned safely. 
George, Burrell and William live in Missouri, Norma lives in California, while Nova and Martha May both live in Alaska. Mark married Helen Begg; they have four children and farm in the Weedon area. Ronald is a partner in a trail riding business in Banff. 
Roy Warner passed away in 1969. Mrs. Warner lives in her lovely new home on the farm. She has 23 grandchildren and two great-grandchildren. Her busy life through the years is summed up by her statement, "I have a lot to be thankful for.