The oral history project by the M.D. Bighorn has another story near and dear to me. I remember Cal Hill coming to school for the first time. He had a huge lunch kit and stories of spending hours each day on the bus. I also got to spend a weekend at the Ranger Station. I remember the hospitality of his parents and how beautiful the area was.
Here is the Hill family story from More Big Hill Country (pg 509). A video of the Hills from the Oral History Project by the Heritage Resource Committee, M.D. Bighorn follows.
Ray and Margaret Hill Family By Margaret Hill 
We came to the Cochrane area in September of 1960 when Ray became Chief Ranger at the Ghost Ranger Station. It was wonderful to be back in a ranching community and so warmly welcomed. Even though we still had no telephone and plowed roads in winter, at least we had neighbours nearby. We had previously spent two years at the Sheep Ranger Station west of Turner Valley, then three years in the Red Deer district where our closest neighbours were at least ten miles away and town (Sundre) was thirty-seven miles. Our two boys, Cal and Cam, were born during this time so we did little travelling in the winter months.
Generally life on the ranger stations was busy. In the early years all travellers had to register and during hunting season they also had to register their rifles at the ranger stations. As there were no secretaries in those days and the men spent a great deal of time in the field, this job often fell to the wives, along with checking out game that had been shot and checking licenses and tags. I remember one hot fall day checking some hunters who had shot a moose. They had shoved it into their trunk, still warm, hide, hair and all. I was sorry I asked to check the tag, as it was all I could do not to gag from the stench. I wonder how it tasted! 
Disoriented hunters were common and often a source of amusement, as in their words "they weren't lost, just didn't know where they'd left their vehicle." They always got out okay, though after a couple of nights in the bush huddling by a campfire or taking refuge in an old trapper shack, their faces and clothes often so black with soot their own wives probably couldn't recognize them. 
Many nights we were awakened by a pounding on the door to find shaking, wet or tired travellers who had hit the ditch miles away or rolled their vehicle. The rangers did many rescue trips and patched up many victims. We served many gallons of coffee to calm and warm them. One of the more interesting patch jobs was a bullet hole through the arm of a careless hunter who had shot himself. At least he was quite calm if not somewhat embarrassed. 
One of our most memorable events was the Spy Hill jailbreak during one cold drizzly night in September of 1969. About midnight the RCMP phoned Ray to close the barrier (which was only a pole) across the road by our house. Almost instantly a car slid to a halt and seven inmates bailed out and scattered into the bush. Within minutes the RCMP started arriving along with tracking dogs and loudhailers. Needless to say, our whole household was up for the remainder of the night. During the next twenty-four hours, I served about a hundred cups of coffee and depleted the cookie supply as the guys dropped in to warm up. 
Ray's main job was fire prevention and suppression. He spent several years as a Bird Dog Officer, which meant he flew ahead of the water bombers to direct them to their drop zone. 
When the fire hazard was low in his district he was often exported to other districts as Fire Boss, which included northern Alberta and as far as Ontario. During our sixteen years at the Ghost, the largest fire was the Burnt Timber fire in 1970, which consumed 4000 acres of prime timber. Communications in the bush were not the greatest in those days (no cell phones) so the telephone in our house was a popular feature. The ranger station was a buzz of activity with long days and short nights for everyone! The helicopter landing pad was our lawn and it was well used. The big bonus was the frequent rides we all had. One day a congenial pilot flew his helicopter down to the Bar C Ranch to pick up our boys from the school bus. This was their first flight in a helicopter and they were very excited!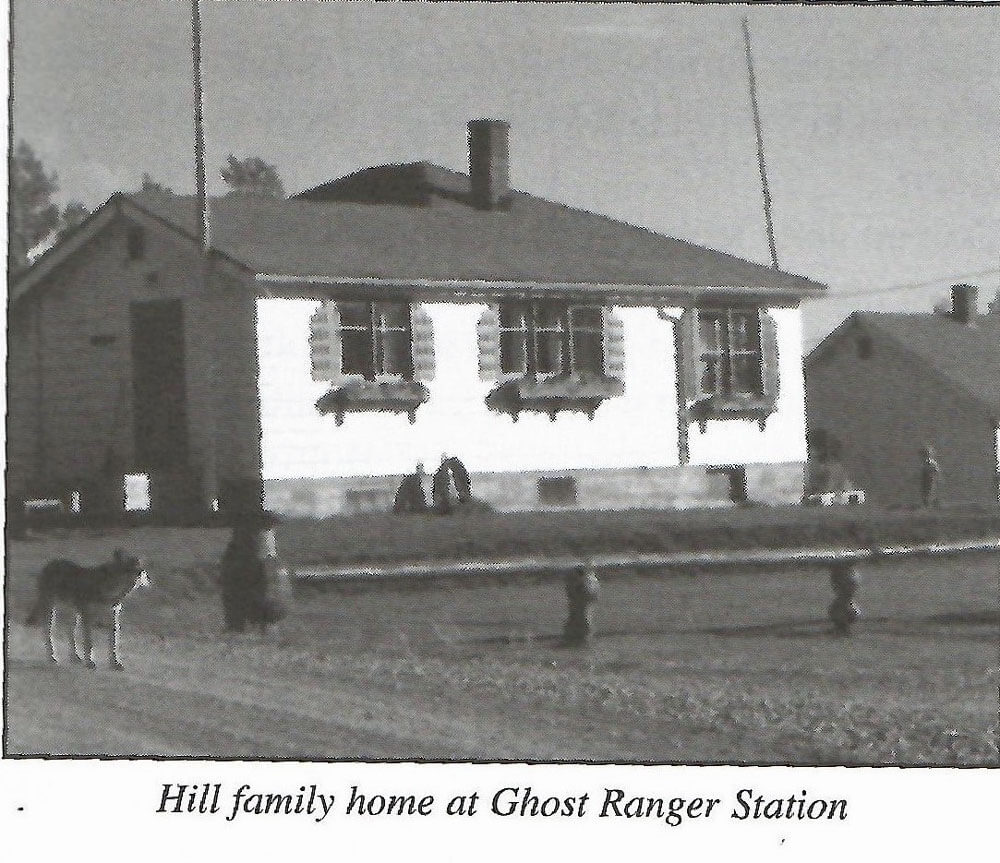 Our oldest son, Cal, took his grade one and two by correspondence as the school bus only came to Butters Ranch, a distance of nine miles. The next year Cam started grade one and they went to Cochrane School for a month. We then spent the next six months at Hinton, in a two-room motel, where Ray finished Forestry Training School. 
The boys finished the school year in Cochrane. The following summer (1966) the Wirsigs and Bothams moved to the Bar C Ranch, so with a total of seven kids, the bus came that far. We still had to drive them three and a half miles, which sometimes got a little nasty in the winter. We also got our first telephone that fall! 
Our boys have fond memories of growing up in the Ghost. They fished, hiked, rode, swam in the local creeks and lakes and then in the early seventies snowmobiling arrived.
Between the four of us, we'd put 5000 miles on two machines over a good winter, a good winter meaning lots of snow, a term our rancher neighbours didn't always agree with. 
In November of 1976, we took a transfer to Canmore as we knew a move was imminent once the boys finished school. Our lifestyle changed somewhat as Ray was involved in much of the development of Kananaskis Country. I spent thirteen enjoyable years as a high school secretary and did considerable hiking and skiing. Ray retired in the spring of 1987 and spent time at Kootenay Lake where we had a property for a while. 
In 1989 we bought property on Lochend Road, bordering the Sunset Ranch. As the property was in two titles, Cal bought the north one where he and his wife Judy built a log home. They have two girls, Jessa and Caylee. Jessa graduates this year (2006) and Caylee is completing grade 10. Both are delighted to graduate from the same school as their Dad. Cal is a geologist and has been with the EUB for the past twenty-six years. Judy works part-time for an accountant and maintains a small herd of Dexter cows. 
Cam spent several years with Kananaskis Parks, and then his spirit of adventure led him to BC Parks to a place called Toad River on the Alaska Highway. After nearly five years there he transferred to the Fish and Wildlife Division at Vanderhoof, BC where he now resides. He and his wife Heidi are presently building a log home on their 400 acres, which is also home to a dozen or so horses. Their daughter, Sierra, also graduates this year. Their son, Ridge, resides in Vanderhoof where he has a farrier business. 
Unfortunately, most of the old ranger stations have been abandoned and demolished. The only structure remaining at the Ghost is the treehouse the boys built many years ago. Cal and his family retrieved some of the boards from it and made picture frames as souvenirs from the past. It's sad to see the home where we spent so many happy years disappear. It's also very sad that the Alberta Forest Service has regressed almost to the point of extinction. We can only hope that a future government may rectify and revitalize it.
Subscribe to our YouTube Channel
See the rest of the Hills experience at the Ghost Ranger Station with fires, escaping prisoner's and other postings.