by R.P. Copithorne pg 754 Big Hill Country
Richard Copithorne arrived in the North West Territories and Calgary in 1887 following his brother, John, who came four years earlier from Cork, Ireland. 
Upon arrival, Richard took a job making a grade on Mission Hill in Calgary. After working there for several months he had earned enough money to buy a team of horses, wagon and other homesteader's supplies to file on a homestead. 
John, who had been freighting supplies to the Morley Indians [sic], liked the Jumping Pound area and remarked that it looked more like Ireland than anywhere else he had been, so Jumping Pound was the district decided on for their homesteads. 
Richard filed on the NW14 32-24-4-5 and built a log cabin which had a sod roof and cellar under the floor, a place to keep groceries and vegetables. The cellar is still discernible to this day. 
John filed on the SE 146-25-4-5 which was close by and they decided to go into partnership and enter the dairy business which consisted of making butter and hauling it 25 miles to Calgary. Eventually, a range herd was built up and Lazy J on the left hip was the registered brand. 
Money in those days was hard to come by. The grocers could not pay cash for the butter so everything was taken out in trade and a good many times the round trip was made over the prairie trail because there was no cash to stay overnight in Calgary. 
This partnership lasted till about the turn of the century when Richard applied for his own brand which was CL Right-hip and CL Right-ribs for cattle and CL Left-hip for horses. 
During the early years, the fences were made of poles or rails nailed onto A-frames. I remember seeing some of these fences still in 
use and also some snake fences which consisted of logs notched into one another in a zigzag fashion. I have since marvelled at the amount of work it took to erect these fences. 
Both Richard and John were great sportsmen. There were apparently lots of ducks and pin-tailed grouse in the country. Some years there was water in every little slough and ducks in every puddle. They used muzzle-loading shotguns. If a long shot was required, more powder was used or as much as a man could stand up behind. 
Richard kept hounds and loved to organize coyote hunts. People from as far as twenty miles would attend to prove they had the best horse. Whoever was first to the kill received the brush (tail) which was the trophy. No barb wire fences in those days to worry about, but sometimes a kit fox or rabbit would distract the dogs from the main objective. 
Richard married Sophia Wills in 1895, a daughter of Geo. Wills of Springbank. He built a new house for his bride on the NE 14 31-24-4-5 which he bought from the C.P.R. This house was also built of logs with a sod roof, but boards were put on top of the sods to drain the water off. This also kept it from raining inside for days after the storm was over. 
A family of five boys and two girls were born to them in the following order: Robert Percy, Margaret Jane (Mrs. J. C. Buckley of Springbank), George William (deceased), Francis Richard and Annie Winnifred (Mrs. Idwal Jones) who were twins, Arthur James, who was killed by a horse in 1915 at the age of five years, and Clarence, who has been a Minister in the Alberta Legislature. 
Around 1900 a sawmill was started about six miles from home and a new house was built in 1902. Bill Pepper was the carpenter who built the two-storey frame building which is still being used and in good repair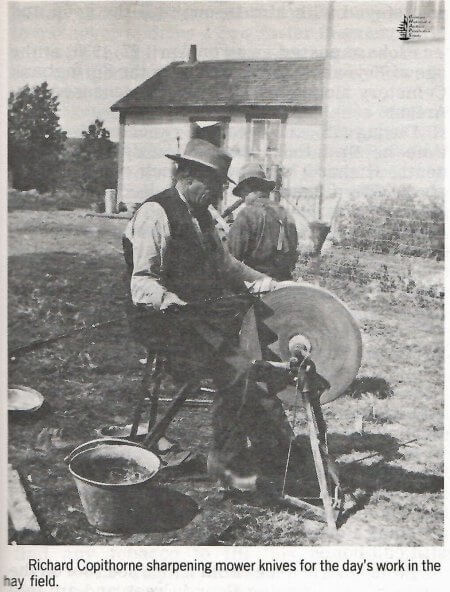 In 1895 a plan was proposed for an irrigation canal to serve the district from Jumping Pound through Springbank to Calgary. Almost every resident signed the petition, but Richard and John Copithorne's names were not on the list. I surmise they thought that a country that was too cold to grow a pratie (potato) did not warrant the expense of an irrigation canal. This project did get started and about ten miles of the ditch was completed when it was abandoned on account of excessive rainfall about 1900. 
The South African Boer War had now started and several of the local boys joined a regiment named the C.M.R., (Canadian Mounted Rifles). 
A story told by Napoleon Blache, a close neighbour of Richard's, was of how Napoleon and his brother, Arthur Blache, attempted to raise hogs by letting them run all over the range during the summer months. In the late fall, the hogs were rounded up for slaughter. Not being very well acquainted with the method of dressing hogs, they tried scalding which did not work so well. They also tried shaving which did not work either, so they ended up skinning them. The weather was quite frosty and the hogs froze solid overnight. They looked such a horrible mess a decision was made to store them up in the barn loft and cover them with hay before anybody else would see them. The following Sunday evening a neighbour, Mr. Tesky, called in for a visit. Of course, he was invited to put his horse in the barn and stay for supper. After putting his horse in the barn Mr. Tesky decided he should give the 
animal some hay, so he went up in the loft, took the fork and pulled the hay off one of those frozen hogs. The light being not very good at that time of day he was quite startled, took two or three steps backward and fell down through a hole into the manger. 
In 1911 the Jumping Pound Stock Association was formed. A lease comprising of 12,800 acres was acquired and is situated along the full length of the Forest Reserve between the Morley Indian Reserve and Bragg Creek, it appeared to be quite attractive. This lease was drawn up for a term of twenty-one years at the annual rental of $256.00 and a capacity rate of one head per 20 acres. It was termed as doing business under the name and firm of The Jumping Pound Stock Association Ranch No. 3972 with the Honourable Minister of the Interior, representative of His Majesty King George the Fifth. The names of the members of this lease are as follows:
W. Ellis
C. Barnes
H. Ricks 
Oliver Ellis 
Frank Sibbald 
Leo J. F. Ward 
Louis D. Nicoll
R. Copithorne 
Eugene E. Nicoll
S. Copithorne
C. Gardner 
John Park
W.H. Edge 
Thomas Cope
C.E. Sibbald
J. Copithorne
W.A. Mickle 
W. R. Duncan 
W.R. Potts 
Robinson
J.D. Potts
D.V. Saunders 
Robert Logan 
Oswald Ward
J. A. W. Fraser
C. W. Mickle
This lease is still in operation and intact although many changes have been made in the Constitution. It is still used by the third generation of some of the above-mentioned members including Richard Copithorne. 
During the winter of 1907 and 08, Richard and John went back to Ireland to visit their kinfolk. They sailed from New York on the Lusitania, a ship which was the latest thing for speed and style. However, they admitted they were darn poor sailors but did have a marvellous time at the old home where their parents still lived. 
The winter of 1906 and 07 made history for being one of the worst winters on record, a heavy loss of cattle across the prairies being the prime tragedy. 
In the fall of 1914, Richard decided to retire to a small farm consisting of eight acres bought in Gordon Head, a district a few miles out of Victoria, British Columbia. His brother Sam was to operate and be the general manager of the Jumping Pound ranch, so in November the whole family moved to Gordon Head. Livestock consisted of one horse and one tough old milk cow; the new farm was quite a let-down in the family's point of view. Some chickens were ordered from the home ranch and when they arrived the rooster's comb looked black and wizened, while some of the hens' toes were missing. Then we realized we were missing an Alberta winter. 
While the family did make some nice friends at the different school's everybody was homesick. By September 1, the beginning of the next school year, everybody was back home in good old Jumping Pound. 
Richard was a man who liked horses and when the First World War broke out there were about three hundred Clydesdale horses on the ranch. A horse in those days never had a rope on him until he was four years old. A hurry-up call for horses for the cavalry made a considerable lot of work. It was often marvelled at how these wild horses tamed down when taken off their home range and put in a military camp. 
During the war years, suitable help for haying was quite a problem and every morning one would wonder what was going to happen next. Luckily, they never quit making new mowers and hay rakes. 
Somewhere about 1915, the first car, a Model T, was bought from Tom Quigley of Cochrane. Those cars could tell of some experiences if cars could talk. Although nothing very serious happened to Richard, some of the other neighbours had their trials. In one case, a rancher bought a brand new Model T and that night when taking it home across the prairies it stopped miles from nowhere. He cranked and cranked and finally being so exasperated, he said, "You S.O.B. if you won't run, you won't see either", and kicked out all the lights, 
On another occasion, this particular rancher had a large round corral where he thought was a good place to learn how to drive the new car. He had a boy holding the gate shut and after several rounds in the corral, he yelled at the boy to open the gate and let her go. But the boy did not get the gate open fast enough. Luckily the gate was made out of light rails and there seemed to be plenty of them at the time of impact. 
In 1922 Richard's wife, Sophia, took ill in the late autumn and passed away the following March 1923, at the age of 43. This was a hard blow as she loved to ride over the ranch with him. She loved to ride a good horse and in the earlier days would ride on the coyote hunts. She always used a side-saddle which is still kept on the ranch and is in good repair. 
One time in the early days while Richard was away riding a man walked to the cabin door and wanted to borrow a horse so that he could catch his own horse which got away from him. Luckily a man who was working for Richard on a new shed said that he would have to go to Glen Healy's about one mile away to get a horse. After he left, the hired man told Sophia he would stay around close because he did not like his looks. That night some policemen slept on the kitchen floor as they were looking for Ernest Cashel, a man wanted for murder. 
In 1927 Richard bought his first tractor, a Model D John Deere all fitted with extension rims and lugs. This spelled the end of the horse era and the beginning of farming for his boys 
who stayed with him through all the good and grim years. 
Richard passed away on April 27, 1936, at the age of 75 years and was buried in the Springbank Cemetery along with his wife and deceased son, Arthur. 
During almost 50 years of ranching, from the time he first took out a homestead until his death, Richard built up a ranch comprised of about fifteen thousand acres of deeded land well stocked with Hereford cattle. The ranch still remains in the family but has been divided into three equal units.