page 268 Big Hill Country
In 1932 at the age of fourteen, I sought an escape from the Saskatchewan dust bowl, Broadacres. Taking a few items of clothing, a violin, a dollar and a quarter, and a freight train, I headed west. My big brother Albert was trucking hay from Cochrane to feed the buffalo in Banff, so there was no better idea than to go stay with him. I got a job as a truck swamper for a while then I worked on ranches in the district. 
During the 1930s Cochrane people sent teams to work on the highway at Lake Louise. In 1934 1 drove a team for Ernie Copithorne. I shared the expenses and wages with him, the wages being 75 cents per hour. 
Some of the Cochrane boys I worked with were: Dave Bryant, Art Coburn, Johnnie Brysh, Ian McKinnon, Lee Bouck, Lorne McKinnon, and Jim Burrels. The boss was a no-nonsense man by the name of McDonald. My dog's name was Ramsay McDonald and the boss soon learned to like him better than he did me or my team. 
We had lots of entertainment in camp. Art Coburn played the gramophone and had every Wilf Carter ditty in the catalogue. I played the button accordion, one man played classical music on his violin, and Scotty played the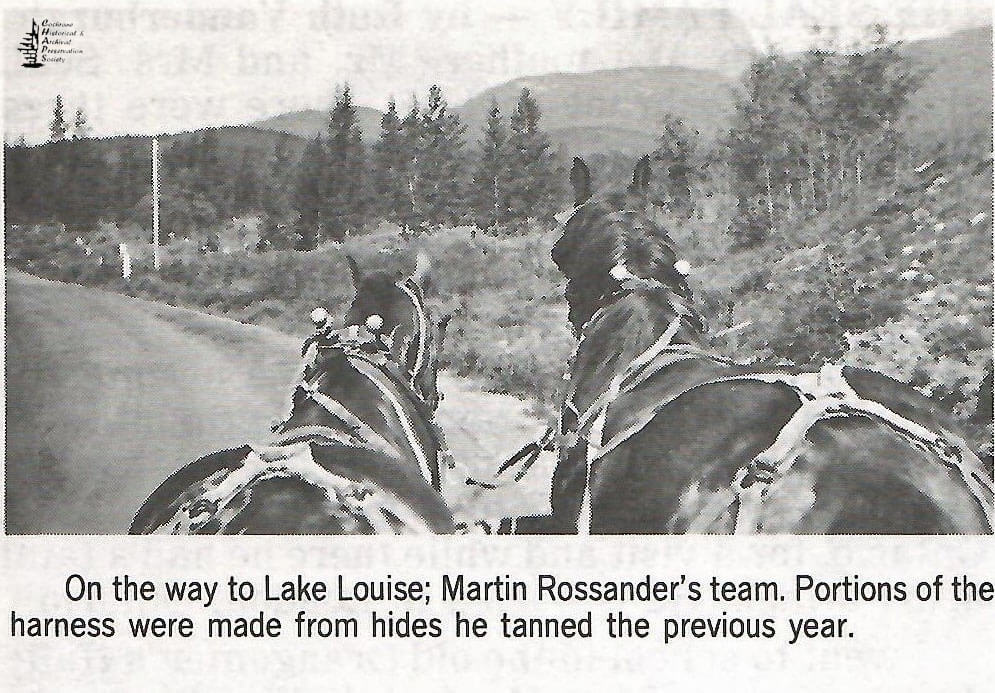 bagpipes. Les Chadderton and his friend played the guitar and one boy played the banjo. None of us had a common beat but we had a terrific range. In a road camp miles from home even bad music hath charm. 
In 1935 I bought a horse and teamed it up with a horse of Fred Ritsons. I tanned a hide and made my own harness, shod my team, and again set out on the week-long trip to Lake Louise. Les Chadderton overtook me and we drove up together. He was driving a team Jim Elder had bought at a local auction sale after the death of a Cochrane farmer, Mark O'Neil. I led a saddle horse behind as far as Banff, one Brewsters had boarded at J. B. Rodgers for the winter. 
To get a team on at Lake Louise you had to be a staunch Liberal or Conservative, flexible to 
whatever party had the upper hand in the government. I must have bought my job as I was not old enough to vote. The only tragedy at Lake Louise was when the wind blew my ten–gallon hat off and it floated away in a treacherous glacier chasm. 
In 1938 I decided to build a house on wheels. Everyone was interested in my idea. Blacksmith Murray suggested I make the frame of steel, carpenter Fletcher recommended wood, I didn't ask the local bricklayers but I decided if a hornet could do it I could. Working in Doc River's garage, Albert and I built a temporary frame covered with several pasted layers of laminated paper, then painted, furnished and launched it. Theodore Braucht and others were so enthused with the finished project they encouraged me to apply for a patent. I sent for an application form but the patent attorney joined the Army and that was the end of that. Today fibreglass is being used in the same technique as I cooked up in Doc River's garage. 
I remember Andy and Flora Garson very well. When I was working on a water well drilling rig owned by an Irish gentleman, who had a yen for the tavern, and we were set up next door to Garsons, Paddy had to go meet somebody so I thought I would have asleep in the sun. Flora sent Vera Nagy over with a pillow to make my work easier. Flora milked several cows and sold milk to many customers in Cochrane. The Nagy family lived across the street and Amy and Vera helped Flora with a lot of work. 
I now live at Powell River, British Columbia. I married twice but have lived alone for the last twelve years. I had one son, Stanley, who met death in a drowning accident, in 1956, at the age of twelve years. 
I retired in 1965 in protest against the rat race. I am self-employed, have a country home, have an experimental garden as a demonstration unit for survival when the food trucks cease to come. I own a few houses which I rent out. 
I am very involved in experimental issues, do research, promote recycling, am involved in the Greenpeace project, and attend the oil-spill seminars. I am very interested in Bill Malcolm's "Crusade Against all Cruelty to Animals Campaign", one of Bill's main objectives being to do away with the steel leg-hold and jaw traps. 
Albert was in the trucking business in Cochrane for several years. He now owns a sash and door factory in Ponoka, Alberta.