By Evelyn (Beadle) Lambert More Big Hill Country
Having started his life in the Munson/Drumheller area, Vern and his brothers Ray and Gordon and their mother Daisy, took up residence in Springbank. Vern attended school in Bowness. 
On July 22, 1949, he arrived in the Cochrane area where he went to work with George Harrison at the Bar DL Ranch. Later on, he went logging with Bill Richards and from there to the Alf Scott Sawmill in Cochrane. In 1951 he, along with many other Cochrane men, worked on the construction of the Shell Jumping Pound Gas Plant, his foreman being Leonard (Shorty) Kinch. In 1951 Vern went to work for the Town of Cochrane, installing the sewer and waterworks, working with Jack Steel, Arthur Kirkland, George Morris and Ted Lee, to name a few. 
Vern and his brothers were very musical. In 1953 they started their own Country and Western Band which consisted of Vern, Ray, Gordon, Al McMahon and Fred Steinmetz at the beginning with Ted Westerson joining the Lambert Brothers later on. They played all around Alberta, keeping very busy every weekend. Finally, in July 1980 they decided to cease the band business. Then later on Vern played drums for George Fox for one year, before George moved down east. 
In 1954 Vern went to work for Precision Construction in Calgary, building and repairing buildings. His brother Ray and Ed Davies also worked there. 
In 1957 Vern and Ray started their own construction company (Lambert Brothers Construction). They purchased 2 acres from the Town of Cochrane and built their own shop. Some of their first hired help were Bill Postlethwaite, Jim Postlethwaite, Don Patterson, Alf Brown, Al McMahon, Phil Cook, Hugh Hillman, Jim Brodie, Basil Powers and Hank Bakker. They built many houses, R.E. Moores Food Store, St. Mary's Church (later called Nan Boothby Library), Scott Lake Garage and numerous other projects. 
During the mid-1960's Vern and Gerald Tustian broke many horses. 
In 1967 Lambert Brothers sold their shop and Vern and I purchased a quarter section of land NW Sec 36 Twp 26 Range 5 W5M plus lease from Phil Austin in beautiful Grand Valley. We had a small ranching operation while Vern continued doing construction and playing in a band. 
During 1986 and 1987 construction of the Mountain View Car Wash and Chiropractic Building in Cochrane was done with the help of Mac Leask Jr., Dan Fenton, Jim Rutledge and Gordon Quinn. Then Vern teamed up with Ed Schmidt in 1988 doing more construction projects until September 1995 when he decided to stay home to look after his cattle and general ranch work and repairs 
Vern and I (Evelyn Beadle) were married in 1953. I was born in the Beadle house on the farm and was delivered by Mrs. Walter Beard, a friend of the family. I attended the Cochrane Lake School until they decided to bus us into the Cochrane Brick School in Cochrane. Our bus drivers were Eddie Rowe and Bill Gogs.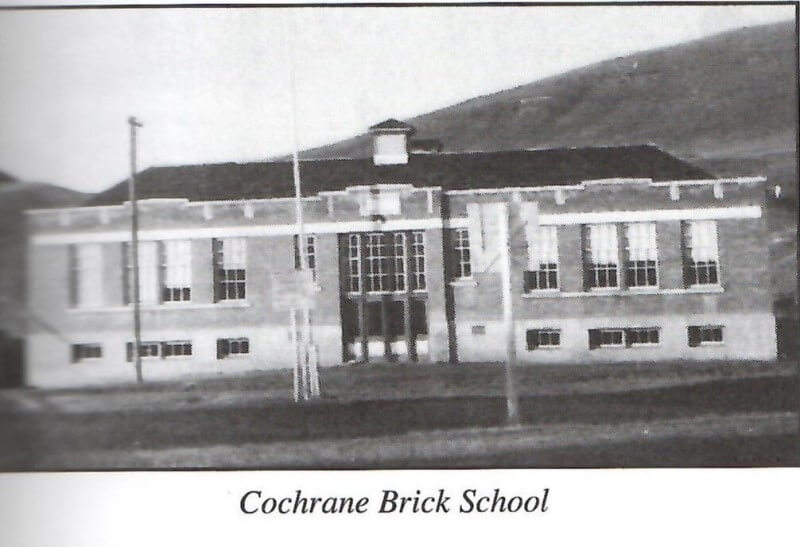 In 1950 I went to work in the Cochrane Post Office for the summer holidays. My wages were $37.50 a month. I enjoyed the work very much and 29 years later I was still there. During those early years worked with Cyril Camden, Andy Chapman, Dorothy Springett, Bernice Reid, Bob Hogarth, Lloyd and Vi Des Jardine, Gordon Hall and Margaret McDowall, to name a few. 
In those days we had to push the mail cart to the Canadian Pacific Railway station to meet the train every day in order to pick up the mail. 
Wanting a change in 1979 I decided to work for Cochrane's first I.G.A., later at Kerfoot and Downs Hardware and then to Lorne Helmig's Esso Station. 
In 1981 I was asked to apply for the Rural Mail contract. which I acquired and did with the help of Winnie Conaboy, Jean Copithorne, Joyce Schmidt, Kathy Harbridge, Mary Anne Beaton, my Dad (Alex Beadle and nephew John Lambert. The two routes covered a distance of 100 miles. RR2 consisted of the Lochend areas and RR1 consisted of the Bottrel and Horse Creek areas. In September 1995 I decided to retire after 14 years of delivering mail, making a total of 43 years working for the Cochrane Postal Department. 
In May 2000 I joined the Cowgirl Cattle Company, an enterprising group of ladies from Cochrane and surrounding areas.